up up photo tips: app edition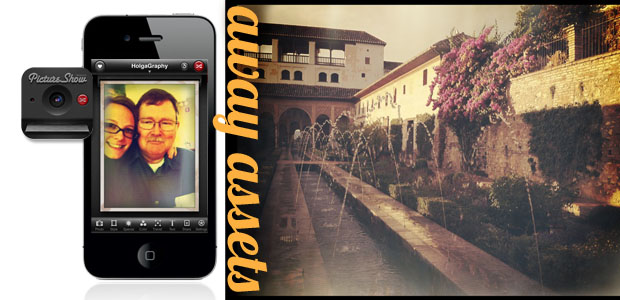 Last year before traveling to Spain I decided to upgrade my iphone 3GS to the iphone 4 for the sole purpose of the camera. I found the best souvenir I can have is to document my memories. The addition of some great photo apps allowed for me to travel light: carrying my iphone and an SLR (as apposed to my normal packing of a digital camera, cellphone, SLR, holga and camcorder). I love my Holga style shots and the designer in me winces at how easy it is to achieve these beautiful effects with the tap of an app filter (although I secretly love that I don't have to spend the time in photoshop or spend 20 bucks getting large format film developed to only get one great shot).  So here are a few of my favorite apps – hope you enjoy!
Affordable but not free: $1.99. This app offers the ability to shoot a photo or use one from your phone's library. Once selected, you can allow the app to randomly select a filter or you can manually adjust the frame, light, noise, color and exposure. I prefer this app to most others because I can add filters after I take the photos. (This photo was taken of my dad at a late night tapas in Barcelona.  The above photos were also taken from that trip using this app. The shot together was at JFK airport – where we met to fly to Barcelona together. The garden shot was from the AlHambra in Granada.)
Affordable but not free: $1.99. This little app has earned it's hype of 2010 apple app of the year. Probably the closest effect to shooting with a true Holga, the app allows you to select different lenses, flash options and uses a view finder similar to a Holga experience. Each shot records the type of lens, flash and film and allows you to order prints directly from the app. My only critique, the new update doesn't allow you to upload images from your current library and the settings can get a little confusing because there are so many options. But for the vintage photo lover – this app is a must have to make the perfect souvenir. (Photo is  from a weekend picnic  featuring  our dogs, Chloe and part of Cole).
Free and awesome! Although I haven't used this app, many of my friends use and highly recommend this app to create the perfect vintage image. It appears to have a simple interface and may not allow the level of customization as Picture Show or the authentic camera experience as Hipstamatic, but it is free and fun to use. What more can you ask for?
What is your favorite photo app to use?