an app for appetites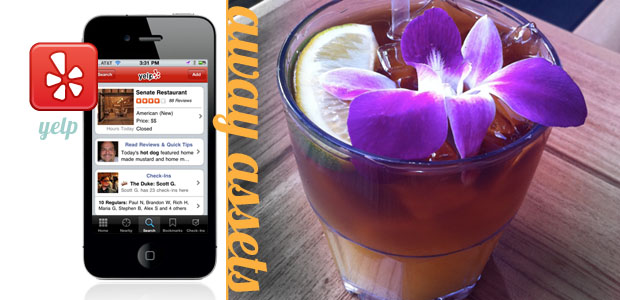 Yelp offers user generated reviews (and although it extends beyond restaurants) it provides an invaluable resource for finding the great local joint while on vacation. You can look up restaurants based on price point, location and genre. So far, some of my greatest foodie finds have been through this app. The key to ensuring a quality selection is to have at least a 3.5 – 4 star rating with more than 10 reviews (the more reviews the better) and make sure to check out the quick tips for go to menu items.
Some of our Yelp Travel Success: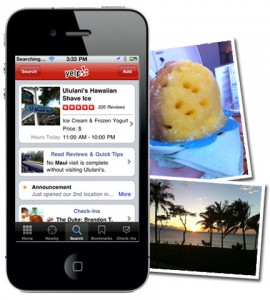 Ululani's Hawaiian Shave Ice – Lahaina, Maui Hawaii – 
ululanisshaveice.com
 A 5 star rating with over 300 reviews. Enough said. This tucked away shack made our vacation to Maui. Shave ice is authentic to Hawaii and when we wanted a local experience, Yelp helped to steer us to this beacon of heaven on earth. They have a counter about 6-7 feet long and you are on hawaiian time for service (but the wait in line is well worth it). You receive homemade, all natural flavorings – sweetened from cane sugar that top whipped/shave ice. Our favorite flavor was tamarind. Perhaps the most endearing thing about this place – they reward yelpers by offering free giveaways.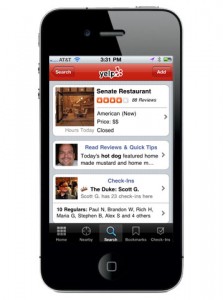 Senate Restaurant – Cincinnati Ohio – www.senatepub.com
I needed a great dinner spot while on a business trip and yelp found us a hip place that features microbrews on tap and gourmet hot dogs. Can you say duck fat fries with truffle oil? And don't forget dessert (go for the beignet – I think theirs could rival the very best of New Orleans). The experience made me a believer in the foodie culture of Cincinnati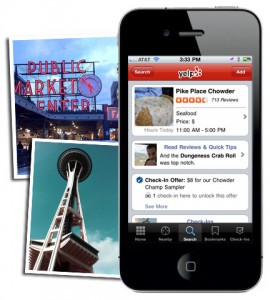 Pikes Place Chowder – Seattle, Washington
www.pikeplacechowder.com
 With 4.5 stars and nearly 700 reviews, this has some of the best chowder you could hope for. We were searching for an affordable lunch solution and yelp guided us to a back alley which offered samplers, bread bowls and fresh crab from the market. Although the seating was sparse, we managed to wrangle a table and enjoyed some of the freshest chowder in America. (we liked it so much, on a separate trip we ventured back for more).
Some other great apps for appetites:
Urbanspoon – Random restaurant chooser
Foursquare – Check-in App with tips (and some specials)